Martin Popoff
Author of: The Collector's Guide to Heavy Metal: Vol 1, the 70s,
The Collector's Guide to Heavy Metal: Vol 2, the 80s,
The Collector's Guide to Heavy Metal: Vol 3, the 90s,
The Collector's Guide to Heavy Metal: Vol 4, the 00s, and
Southern Rock Review
Martin Popoff is heavy metal's most widely recognized journalist.
He is the Editor In Chief of Brave Words & Bloody Knuckles, and also contributes to Guitar World, Lollipop, Goldmine, Record Collector, bravewords.com, lollipop.com and hardradio.com, with many record label band bios and liner notes to his credit as well.
Raised in Trail, British Columbia, Canada, Martin went on to complete an MBA, work for Xerox, then co-own a graphic design and print brokering firm, before becoming a full-time rock critic in 1998. Gillan, Max Webster, Deep Purple, ZZ Top and Black Sabbath are his favourite five bands of all time.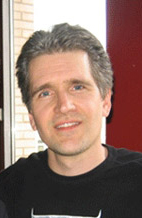 Martin Popoff
Martin is the author of 33 books of music criticism:
Riff Kills Man! 25 Years Of Recorded Hard Rock & Heavy Metal (1993)
The Collector's Guide To Heavy Metal (1997)
The Goldmine Price Guide To Heavy Metal Records (2000)
Heavy Metal: 20th Century Rock And Roll (2000)
Southern Rock Review (2001)
The Top 500 Heavy Metal Songs Of All Time (2003)
The Collector's Guide To Heavy Metal: Volume 1: The Seventies (2003)
The Top 500 Heavy Metal Albums Of All Time (2004)
Contents Under Pressure: 30 Years Of Rush At Home & Away (2004)
Blue Oyster Cult: Secrets Revealed! (2004)
The New Wave Of British Heavy Metal Singles (2005)
UFO: Shoot Out The Lights (2005)
Rainbow: English Castle Magic (2005)
The Collector's Guide To Heavy Metal: Volume 2: The Eighties (2005)
Dio: Light Beyond The Black (2006)
Black Sabbath: Doom Let Loose (2006)
Run For Cover: The Art Of Derek Riggs (2006)
Ye Olde Metal: 1968 To 1972 (2007)
The Collector's Guide To Heavy Metal: Volume 3: The Nineties (2007)
Ye Olde Metal: 1973 To 1975 (2007)
Judas Priest: Heavy Metal Painkillers (2007)
Ye Olde Metal: 1976 (2008)
Ye Olde Metal: 1977 (2008)
All Access: The Art And History Of The Backstage Pass (2008)
Gettin' Tighter: Deep Purple: '68 - '76 (2008)
Ye Olde Metal: 1978 (2009)
Blue Oyster Cult! Secrets Revealed! (2009)
Worlds Away: Voivod & The Art Of Michel Langevin (2009)
Goldmine Price Guide To 45 RPM Records, 7th. Ed. (2009)
Goldmine Record Album Price Guide, 6th. Ed. (2009)
A Castle Full Of Rascals: Deep Purple '83 - '09 (2009)
Goldmine Standard Catalogue of American Records, 7th Ed. (2010)
The Collector's Guide to Heavy Metail: Volume 4: The 00s (2011)

Martin has also written liner notes for approximately 25 releases, as well as record label bios for dozens more. He is thanked in over 100 CDs and is on personal terms with dozens of bands, management contacts and label executives. His approximately 7500 album reviews written since 1989 has recently prompted an application for a Guinness World Record.
Martin would like to spend his last working years painting full time, hopefully as a gallery artist as well as an active album cover artist. His ultimate career goal in life is to paint a cover for a ZZ Top album.
Martin currently resides in Toronto and can be reached through his website www.martinpopoff.com, which includes detailed descriptive and ordering information on his books that are currently in print.
To contact CG Publishing email
here
Telephone: 905 637 5737 Fax: 905 637 2631
©Copyright 2004 CGPUBLISHING in association with Precognition Studios®