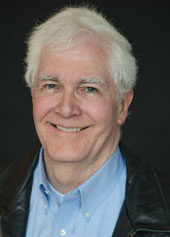 Frank White is the author or co-author of 10 books, ranging in subject matter from space exploration to climate change. His book, The Overview Effect: Space Exploration and Human Evolution, is now in its third edition, and is considered by many to be a seminal work in the field of space exploration and development. A film called "Overview," based largely on this work, has had more than 7 million plays on Vimeo.
In The New Camelot: The Quest for the Overview Effect, he continues his examination of the Overview Effect phenomenon, offering a radical new view of the Apollo lunar program and the Kennedy Administration. Frank also wrote The SETI Factor and co-authored Think About Space and March of the Millennia with Isaac Asimov. He is now working on a third book in the Overview series, The Cosma Hypothesis. Frank is a co-founder of the Overview Institute and founder of the Academy in Space Initiative.
Born in Greenwood, Mississippi, Frank attended Harvard College where he concentrated in social studies, an honors program, graduating magna cum laude in 1966. He was elected to Phi Beta Kappa, and attended Oxford University on a Rhodes Scholarship, earning an M Phil in politics in 1969.