A boy growing up in America during the Great Depression of the 1930s -- ambitious, inquisitive, blessed with endless energy -- had the world at his doorstep. Donald Beattie was such a boy. His many careers took him to all 50 states and 40 countries, a saga of adventure, exploration and discovery that will delight the old and fuel the dreams of the young. Donald Beattie served in the United States Navy, worked for Mobil as a geologist, with NASA as the same, and with the National Science Foundation in the field of energy. But that is just a taste.
Beattie was in the thick of the Apollo programme, training the astronauts to perform geology on the moon, and was also one of the first people to work on the Space Station programme. This book will satisfy scientist and layman alike. It is both a tribute to his thousands of coworkers and a memoir for his grandchildren. Its many photographs bring his stories vividly to life.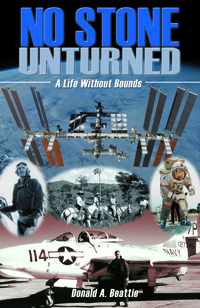 Available Now! $25.00 p lus shipping Go to Item #58A on the shopping cart.
ISBN 9781926837185