Gemini 3 The NASA Mission Reports by Steve Whitfield continues the award winning series originally published by Apogee Space Books.
The first manned Gemini mission was flown by Virgil "Gus" Grissom and John Young and was an important step towards America moving ahead in the space race. The Gemini spacecraft was the new upgraded "Advanced" two-man vehicle that would allow its crew to live in space comfortably for several days at a time. Launched atop an Air Force Titan missile, the flight of Gemini 3 was a high risk moment in the early hey-days of space exploration.
In this book details of this important first flight are collected along with many diagrams and illustrations.
COMES WITH A DVD-VIDEO/ROM DISC INCLUDING THREE GEMINI FILMS, HOURS OF GEMINI AUDIO AND RARE DOCUMENTS ABOUT THE FIRST GEMINI MISSIONS!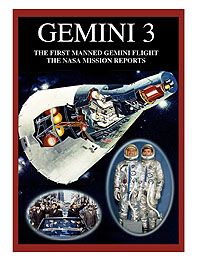 AVAILABLE NOW! $29.95 - Plus shipping. Go to Item #35B on the shopping cart.
ISBN 9781926837147