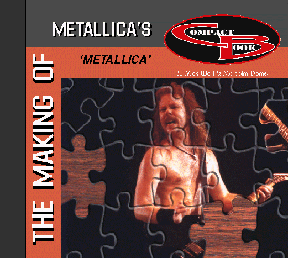 The Making of Metallica ISBN 1896522343

$9.95 Canadian
$7.95 American
£5.95 UK
The Making of Metallica


by Mick Wall & Malcolm Dome

The Making Of Metallica's Metallica is the story of the biggest selling heavy metal band of all time - Metallica - and the album that helped them become so - known variously to their fans as Metallica, Untitled, or simply The Black Album.

Having revolutionised the very term 'heavy metal', in the Eighties, bringing it down from the spandex mountain it occupied, back to the street from which its ugly , twisted roots first came, Metallica began life in the Nineties as cult heroes. The release, in 1991, of Metallica, however, would catapult them into the stratosphere, its 15 million sales worldwide turning James Hetfield, Lars Ulrich, Kirk Hammet, and Jason Newsted into virtual household names seemingly overnight. Hit singles like 'Enter The Sandman', 'Nothing Else Matters', 'Sad But True', and 'The Unforgiven', meant that no American city was safe from the mother-album's all pervading influence. The Making Of Metallica is a probing look at the construction of this momentous heavy album, compiled by noted journalists Mick Wall and Malcolm Dome who conducted interviews with the musicians and producers whose efforts contrived one of the most important albums of all time.