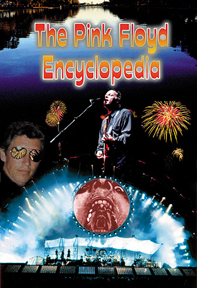 The Pink Floyd Encyclopedia ISBN 1894959248

$35.95 Canadian
$29.95 American
£17.95 UK
The Pink Floyd Encyclopedia


3rd Edition


by Vernon Fitch


The Pink Floyd Encyclopedia is an in-depth reference work covering all the people, places, and history of the musical group Pink Floyd. From the earliest days of the band to the present, this book explains band relationships, from The Abdabs to Zee. The Pink Floyd Encyclopedia is a must for every Pink Floyd enthusiast, from the casual fan to the obsessive collector. Includes:- * Pink Floyd Reference Encyclopedia - Learn about all the people, places, and things that have been involved with Pink Floyd and it's band members, in a unique Pink Floyd encyclopedia. * Pink Floyd Concert Dates - Take a trip through Pink Floyd's performance history with concert listings of every performance over their 30+ year career. * Solo Concert Dates - Further your concert knowledge with complete listings of every solo performance by Syd Barrett, David Gilmour, Nick Mason, Roger Waters, and Richard Wright, both during and after their tenures with the band. * Equipment Listings - Find out what equipment has been used by Pink Floyd throughout their history. Check out what guitars, amplifiers, keyboards, drum kits, PA equipment, and special effects were used during their various tours and concert appearances. * Hawkwind CD - Hear a unique version of the classic Pink Floyd song, Interstellar Overdrive, as interpreted by the venerable British Sci-Fi band, Hawkwind, on a special CD release, commissioned exclusively for this book. Plus two more tracks.
About the author:Vernon Fitch is a music historian specializing in Pink Floyd and progressive rock bands of the 1960s and 1970s. He created and runs The Pink Floyd Archives, an ongoing private archive of Pink Floyd materials for the purpose of documenting the history of the band.