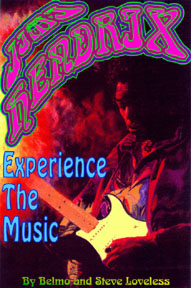 Jimi Hendrix ISBN 9781896522456
$18.95 Canadian
$15.95 American
£9.95 UK
Jimi Hendrix
Experience The Music
by Belmo & Steve Loveless

During Jimi's lifetime there were only four albums officially sanctioned by him. However, since his untimely death in 1970, there have been hundreds of New Titles released into the Hendrix marketplace. These official and unofficial posthumous releases contain live recordings, home demos, studio outtakes, jam sessions, television and radio performances, alternate mixes and performances with other musicians. This wealth of recordings can be quite confusing and misleading for the fans of Jimi's music. Thus, the purpose of JIMI HENDRIX: EXPERIENCE THE MUSIC is to make sense of Jimi's recorded legacy. This exhaustive work provides fans and collectors with the complete details of all of Jimi Hendrix's musical output and is the most comprehensive guide yet written on the recordings and films of Jimi. Nearly 650 titles (singles, LPs, compact discs, promotional releases, and bootlegs) are included in the discography - from the first studio recordings in 1963 to the last recorded jam session in 1970. Every song ever recorded is listed and analyzed in the Song Index and includes over 4000 entries! Exclusive and revealing interviews with Experience drummer NOEL REDDING, rock legend STEVE MILLER, and guitar virtuoso JOE SATRIANI help unravel some of the mysteries of Jimi Hendrix. Also included is a foreword by guitar legend ULI J. ROTH, photographs of rare album art, Jimi's extensive tour itinerary, a film / video discography, band lineups and much more.

Bob Walker, publisher and editor of Hot Wacks Discographies says: "EXPERIENCE THE MUSIC is a truly unique book about the recording life of a truly unique musician. Nowhere else will you find so much detailed information. Years of research have resulted in a must-have book for the novice and hard-core collector alike. If EXPERIENCE THE MUSIC isn't on your book shelf, it should be."