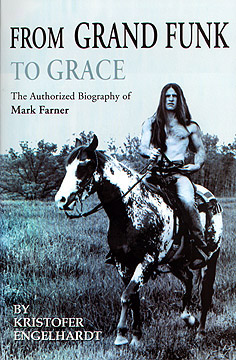 From Grand Funk to Grace ISBN 9781896522746

$26.95 Canadian
$19.95 American
£17.95 UK
From Grand Funk to Grace
The Authorized Biography of Mark Farner
by Kristofer Engelhardt
Mark Farner is a founding member, lead guitarist-vocalist, songwriter and primary creative force of the internationally famous rock group Grand Funk Railroad. Grand Funk Railroad has sold over 25 million records and were the biggest record-selling American group of 1970. They have earned eleven consecutive RIAA Gold Record Awards, six of which earned Platinum Awards. Grand Funk Railroad is the only group, beside The Beatles, to sellout New York's Shea Stadium - and in record time.
By the mid-1970s they had become known as "the American band" with such classic rock hits as: Rock & Roll Soul, I'm Your Captain (Closer To Home), Some Kind Of Wonderful, Bad Time, The Loco-Motion and We're An American Band. They were certainly not for the weak-at-heart. They quite literally drove audiences into a frenzy from the outset with their bombastic sound. It was painfully loud, Michigan industrial "Footstompin' Music!" The music kids listened to on 8-track tapes in their cars - dope-smokin' music! They were the quintessential '70s arena rock band helping to define what was later termed "Heavy Metal" Initially it resembled the movie "Spinal Tap!" but it evolved into something quite different. In this authorized biography, the fiercely private Mark Farner, talks about conflicts within his family and Grand Funk Railroad, his drug use, "sex-capades", touring with"the American band", marital infidelities, a child out of wedlock, divorce, his teenage bride, bitter lawsuit, losing a fortune, the breakup and reunions of Grand Funk, battles with the IRS, medical conditions, religious rebirth, politics and everything else capturing his passion.
"When the 'Funk' hit the stage, they owned your ass. Mark, Mel and Don were so powerful you forgot all about the other bands on the bill, how you got there, who you came with; just about everything except being part of this ernergy that you couldn't deny. You were in a full sweat, shakin' it, whether you had any rhythm or not. They probably had more impact on me than I ever realized." -Eddie Van Halen

Get From Grand Funk to Grace at your local book seller!