David Baker has produced THREE volumes describing in running narrative style the history of the Apollo Program from its origins in 1959 through the Apollo-Soyuz Test Program in 1975, embracing 15 manned launches between 1968 and 1975 and 17 unmanned flights involving Saturn I, IB and V launch vehicles between 1961 and 1974.
The purpose of the series is to provide a blended history covering the policy that made it happen, the strategic decision-making that made it possible at several sequential steps, the industrial challenges, the technical arguments, the trials and tribulations of test and qualification, and the evolution and integration of unmanned and manned missions as the program unfolded across 17 years of some of the most exciting, breathtaking and heart-stopping moments in space fight history.
Volume 1 is available soon.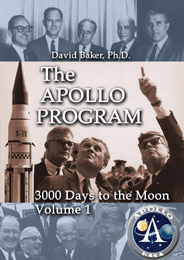 AVAILABLE SOON! $TBA plus shipping
ISBN 9781926837109