Exclusive Buzz Aldrin Signed 16 x 20 Photograph
Authentic Autographed item!

We are proud to announce the acquisition of a limited quantity of authentic signed photographs of Dr. Buzz Aldrin.
These beautiful pictures were recently signed by Dr. Aldrin at his appearance at the FanExpo Convention in Toronto Canada, sponsored by Apogee Books. Buzz was the guest of honor, where he appeared for two days to meet the general public and talk about his life.
During his visit, Buzz signed autographs on these absolutely stunning large format photographs. Tickets for the event ranged from $275-$400, but if you couldn't make it, now is your chance!
Each picture is a massive 16 x 20 inches (40 x 51 cms) with absolutely sharp high resolution photo quality. Perfectly suited for framing.
These photographs are a once in a lifetime opportunity to own a genuine historical artefact signed by one of the most famous men in history.
Don't miss this unique opportunity to provide your family with this most remarkable heirloom!
Each photograph comes with a Certificate of Authenticity provided by Apogee Books and backed by Apogee's reputation.
Every photograph is guaranteed by Apogee Books to include an authentic signature by Dr Aldrin written in either blue or silver pen.
To guarantee delivery each photograph will be shipped with a tracking number.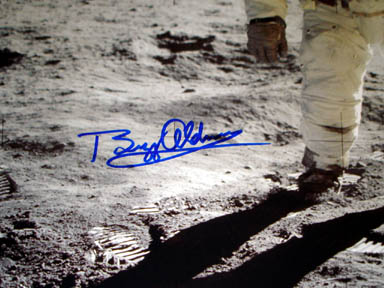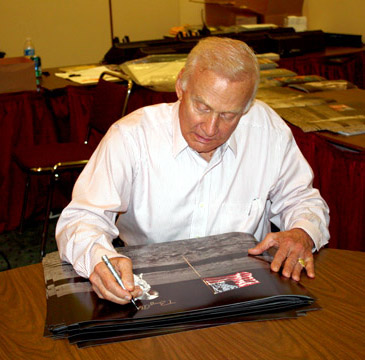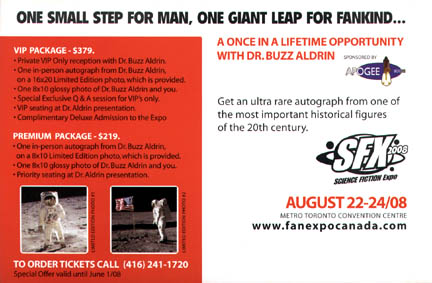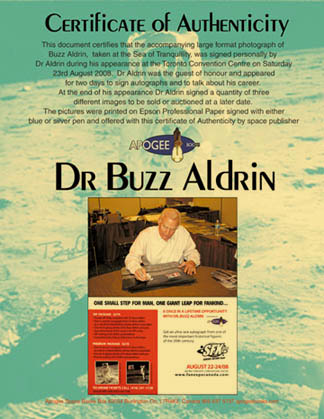 <!***********************************************