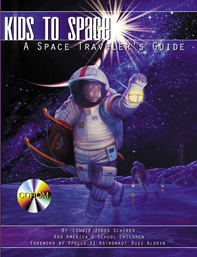 Kids to Space
ISBN: 9781894959421
$29.95 American

Kids to Space: A Space Traveler's Guide
by Lonnie Jones Schorer
Based on an imaginary trip to space with America's school children, Kids to Space: A Space Traveler's Guide is a comprehensive collection of children's questions about traveling to and living in space. From black holes to possible destinations, from group dynamics to weightlessness, from medical concerns to space communities, internationally recognized experts in each field provide answers to 100 different categories of student questions, making the book a fascinating space guide, not just for kids but for all who have ever wondered about the universe and dreamed of what it would be like to be a space traveler.
In his foreword, Gemini XII and Apollo XI Astronaut Buzz Aldrin encourages students to take advantage of opportunities, many of which are related to future space exploration and discoveries.
In a letter to teachers, Astronaut and Space Shuttle Commander Rick Searfoss lends his support, emphasizing that children's contributions are an important part of the dream.
In responding to "Would YOU go to space?" students provided insight into why they would or would not personally go to space. Statistical results will be included in the book.
Educators throughout the US who participated in the Kids to Space project were excited to get the kids thinking about tomorrow. Students, ages 5-18, were excited to be asked to participate in planning for humankind's future in space. The experts, including astronauts, educators, astronomers, doctors, engineers, scientists, architects and engineers, were excited to be challenged, and sometimes stumped, by the questions. Sometimes they had to readjust their ideas of what they thought they knew in order to answer come of the students' questions.
A Kids to Space Teacher's Manual of activities related to each chapter will be available for educators. Hundreds of student illustrations, brilliant depictions of what it would be like to live in or travel to space, will be included on an accompanying CD/ROM.
From science fiction to accessible reality, Kids to Space: A Space Traveler's Guide serves as a timely message to children that the space future is in their hands, and we welcome their help in planning for it now.
The why's and how's of space travel are demystified in this kid-friendly reference guide that encourages children to ponder humankind's future in space. The questions, generated by students in kindergarten through high school, address issues—ranging from animals, asteroids, black holes, space exploration, and sleeping in zero gravity—that are divided into 85 distinct subject categories. Easy-to-understand explanations to queries such as What does space smell like? are provided by internationally recognized experts that include NASA engineers, former astronauts, astronomy professors, and aerospace instructors. Illustrations appear both in the book and on an accompanying CD-ROM, making this a useful classroom activity guide or tool for child–parent discovery.